There are good reasons
why many of our guests return every year ...


The camping Desimi Beach is located in a particularly happy position and this can be considered one of the few areas in Greece can offer such a wide variety of benefits and solutions for your relaxation.


Arranged to the right site of the Gulf of Desimi directly on the sea, the camping is literally "drowned" among four century old olive trees.
If you have your own boat, apart from the convenience of a free launching service, you can dock directly into the bay a few meters from your caravan or camper.
Also a convenient service every morning is provided, right at the campsite, the supply of gasoline.
If you do not have a boat of your own, you can always rent one easily a few meters from the camp.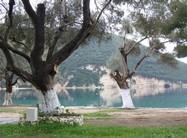 The gulf of Desimi opens directly into the open sea and the area is particularly suitable for small boats because there are more than 15 islands between large and small, including the famous Skorpios.
The presence of the islands of Lefkada, Cephalonia, Ithaki, making the sea always very calm with moderate winds.

If you want to spend your days by the sea without "going to sea" you can always relax on the beach adjacent to the campsite or take a nice walk in the mountains or by the sea, always in the middle of olive trees, or a visit to waterfalls near Nidri.

The towns of Geni, Vliho and Nidri are easily accessible by bicycle, where restaurants, bars, shops, supermarkets and entertainment certainly not lacking.

Life in the camping











Photo Galery of Desimi Capming